Mazda 3 Tops KBB's 10 Coolest Cars List, AGAIN!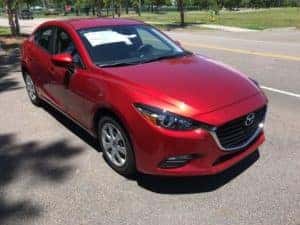 Many things have changed over the last fifteen years. Cellular flip phones have come and gone. Our smartphones are now used in place of MP3 players. When is the last time you use a paper map? Those things simply just aren't "cool" anymore. But one things has remained "cool" since it was first introduced all the way back in 2003. It has Kelley Blue Book's approval too! Keep reading for details about the 2018 Mazda 3.
10 Coolest Cars List
Yes! Since it was first introduced in 2003, the Mazda 3 has appeared on Kelley Blue Book's 10 Coolest Cars list. That is a whopping fifteen years! And to make the recognition even sweeter, the Mazda3 has held the top spot for the fifth year in a row!
"Available in both sedan and hatchback form, the Mazda3 offers practicality that appeals to compact car buyers, with sportiness that makes even daily chores more fun," said Michael Harley, executive editor for Kelley Blue Book.
Must-Haves to Win
The Kelley Blue Book editors have two standards that are extremely important when they decide who grabs a spot on the 10 Coolest Cars list. First, a vehicle must be fun to own. Second, a car must be fun to drive. It also has to have a certain "cool factor" which editors say is highly subjective.

Updates to Mazda 3
For 2018, the Mazda 3 received newly standard features in all trim levels. Mazda continues to emphasize their philosophy of putting people first. There are more standard safety features, one being Smart City Brake Support. Smart City Brake Support is an automatic emergency braking system that help provide drivers and passengers with better peace of mind. Did you also know that the Mazda 3 comes in a hatchback and a sedan?
Stop By Beach Mazda
Honestly, we think the best way to learn just how cool the Mazda 3 really is is to come see it for yourself! Stop by Beach Mazda today and tell you all about the many ways the Mazda3 deserves the number one spot on Kelley Blue Book's 10 Coolest Cars List!