2019 CX-5 Earns Best New Car Award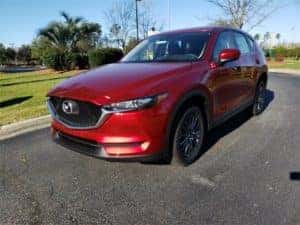 Just recently, the 2019 CX-5 was recognized by Good Housekeeping as a top-rated vehicle in the compact crossover SUV category for their edition of 2019 Best New Car Awards. Keep reading for the full story!
Testing
The authorities at the Good Housekeeping Institute (GHI) recently combined with the authorities at Car and Driver to put this year's newest vehicle through their paces! The drove the new vehicles on over 5,000 miles of city roads, highways and even on test tracks. They whittled down the contestants to the top 50 makes and models. In addition to automotive industry standards and procedures, the Good Housekeeping Institute Labs tested the new vehicles on different subjects. Those were handling, safety, value as well as technology and design.
"Mazda CX-5 is fun to drive and we were impressed by how smoothly the car handled both around town and with highway driving," said Laurie Jennings, GHI Director & Lead Consumer Tester. "With the CX-5 you feel like you've gotten more than you paid for," added Rachel Rothman, GHI Chief Technologist and Head Engineer. "Its modern, sophisticated design makes it feel like a timeless, high-end pick."

Ever Evolving
The Mazda CX-5 is constantly evolving, especially with its high-quality interior and refinement of the powertrain lineup. There are also many other optional and standard features of the 2019 CX-5.
"The sleek Kodo design and Mazda's Skyactiv Technologies are what differentiates Mazda from other automakers," said Jeffrey Guyton. He is the president of Mazda North American Operations. "We are proud that Good Housekeeping and Car and Driver have recognized the beauty and value of the CX-5 for the second year."
Did you know the CX-5 is Mazda's best-selling vehicle in the United States? There are over 2 million vehicles across the globe!
Contact Beach Mazda
Want to learn more about the 2019 CX-5, the CX-5 dimensions, or how to replace the Mazda key fob battery? By all means, give our Mazda experts a call today!