2019 Mazda CX-3 at NY International Auto Show
The Mazda KAI Concept and SKYACTIV™-X engine both made their North American automobile show debuts! Mazda has so much great stuff happening right now that we know it's sometimes hard to keep up. But, keep reading to learn more.
The New 2019 Mazda CX-3
The 2019 Mazda CX-3's interior has undergone a major "renovation" so to speak. Most notably, the 2019 Mazda CX-3 has adopted a new electronic parking brake that frees up a ton of cabin space. This allowed developers to to increase the storage space. Other improvements include the smoother and more efficient SKYACTIV™-G 2.0 gasoline engine. There are also available full-leather seating surfaces and redesigned seats. The new seats place the body in a more comfortable position for driving. Of course, the CX-3 still offers fantastically unique driving dynamic everyone loves.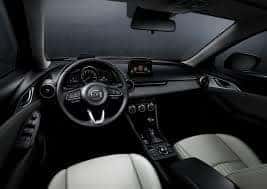 Mazda North American Operations CEO Masahiro also talked about Mazda's commitment to the United States with Mazda Toyota Manufacturing, U.S.A., Inc. We discussed this joint venture in a blog post just last month.
The Mazda KAI concept and the SKYACTIV™-X engine were also on display during the New York International Auto Show. KAI, means "pioneer" in Japanese. It hints at Mazda's KODO-Soul of Motion design direction. The SKYACTIV™-X engine is the world's first commercially available gasoline compression-ignition engine. This engine is part of a greater initiative in line with Mazda's :Sustainable Zoom-Zoom 2030". It's a long term vision for technology development. By offering an experience of car ownership that celebrates driving, the company hopes to enrich lives and build a strong bond with customers.
Want to learn more?
Want more information about Mazda vehicles? Give Beach Mazda a call today! We have the Mazda experts on staff and they are ready to help you!