2019 Mazda CX-5 Earns Top Safety Pick+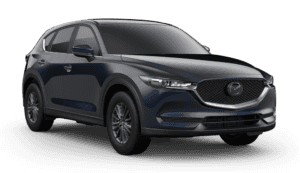 What is this? Could it be yet another award for a Mazda vehicle? Why yes, yes it is! Mazda recently announced that the 2019 Mazda CX-5 compact crossover earned the Insurance Institute for Highway Safety's "Top Safety Pick+" classification, as long as the vehicle is equipped with specific headlights. This is the nonprofit institution's highest rating.
Beginning in 2013
Back in 2013, the Mazda CX-5 earn the Top Safety Pick. After that, from 2014 until now, it earned the Top Safety Pick+ designation. The 2019 Mazda CX-5 is one of approximately 30 automobiles to earn the Top Safety Pick+. The Insurance institute for Highway Safety has more rigorous criteria. It now requires better passenger-side protection rating in a small overlap front crash. The standard Smart City brake Support and specific LED headlights on the Mazda CX-5 helped earn the Top Safety Pick+ award.
Rating
To earn the Top Safety Pick+ award, a vehicle must acquire the highest rating of "Good" for 2019 in six crash tests. It must also earn "Advanced " or "Superior" rating in front crash prevention, as well as a "Good" headlight rating.
"Our Mazda Proactive Safety Philosophy guides us to develop cars and crossover SUVs that are both nimble and responsive to help a driver avoid incidents altogether. Our vehicles are both beautifully designed and exceptionally engineered, as evidenced by our continued safety recognitions," said Masahiro Moro, president and CEO of Mazda North American Operations and managing executive officer, Mazda Motor Corporation. "Each year the IIHS 'Top Safety Pick+' becomes more difficult to attain but our dedication to excellent engineering continues to shine."
Want More Information?
Not only does Mazda design vehicles that are fun to drive, they are also safe to drive! Do you want to learn more about this award winning Mazda vehicle? By all means, please give Beach Mazda a call today! We have the Mazda experts on hand waiting to help you!