Electric Vehicles: Mazda, Toyota & Denso Combine Forces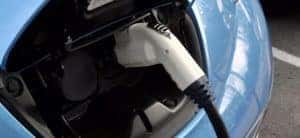 If you haven't heard already, Mazda Motor Corporation, Denso Corporation and Toyota Motor Corporation have joined together for a really fantastic endeavor. Keep reading for all the details about new electric vehicles!
Electric Vehicles & Technology
At the end of September, Mazda, Toyota and Denso have combined their energies to develop basic structural  technologies for the development of electric vehicles. Together, they have formed a new company that consists of selected engineers from each company. This is to ensure the efficient implementation of the joint technological development projects.
Across the globe, communities are adopting ever increasing levels of policies that aim to reduce greenhouse gasses. New regulations now mandate that a certain amount of electric vehicle sales are starting to emerge. Adhering to these new environmental regulations while still ensuring the sustainable growth of the companies is a concern. It requires the development of new powertrains and technology.
Automaker Response
Electric Vehicles have yet to find widespread acceptance though. There is a huge investment and a large amount of time that is required to cover all markets and vehicle segments. This is an issue for the individual automakers when they respond to a variety of demand for electric vehicles.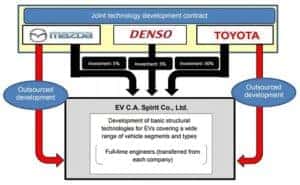 The new company will engage in the following:
Research into the characteristics that define optimum performance and functions of EVs from the standpoint of both individual components and the whole vehicle
Verification of component installation and vehicle performance realized by the characteristics achieved in item #1.
Examination of the optimum concept for each car classification with regard to each component and each type of vehicle realized by achieving items #1 and #2.
Looking to the Future
Beach Mazda is super excited to see what the future holds for Mazda Motor Corporation. The development of electric vehicles is on the verge of becoming a necessity. This new company will surely develop some great technology.
Interested in a current Mazda vehicle? By all means, give Beach Mazda a call today!