Mazda3 Wins World Car Design of the Year Award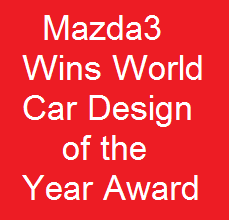 Even in the crazy times we are living in, there is always something to celebrate. This time, Mazda gets to celebrate the Mazda3 winning the 2020 World Car Design of the Year Award! Keep reading for details.
A Major Award
The World Car Design of the Year Award is one of the prestigious awards presented by the World Car Awards (WCA). The Mazda3 is actually Mazda's second vehicle to be designated as World Car Design of the Year. The Mazda MX-5 Miata won it in 2016.
"Mazda is honored to be recognized with this prestigious award," said Masahiro Moro, Chairman and CEO of Mazda North American Operations. "While we're pleased to receive this good news, we remain focused on the health and safety of our employees, dealers, customers, and communities. We look forward to celebrating with our Mazda family in the future."
Kodo Design Philosophy
Mazda's design ideology is "Car as Art". The Mazda3 has embraced a more sophisticated Kodo architecture. People around the globe have agreed. The Kodo design pulls its influence from Japanese aesthetics. It is a "less is more" type of philosophy. There is no need for gratuitous or exorbitant components. According to Mazda "The result is a unique design that creates subtle undulations of light and shadows gliding over the car's smooth body, crafting a natural and powerful expression of vitality."
Beach Mazda
Debuting late last year, the Mazda3 has been one of our most popular vehicles on the lot. It has an impressive amount of standard and available safety and infotainment features. Beach Mazda currently has a nice selection of Mazda3s on our lot but they are going quickly. Give us a call today to get your VIP Test Drive Experience scheduled today. Our knowledgeable sales associates are ready and waiting to help you choose your new 2020 Mazda3.