Soft Top Options for 2018 Mazda MX-5 Miata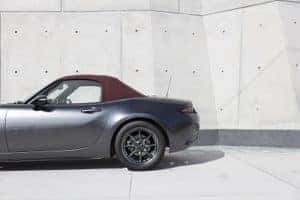 Has Mazda got a treat for you! Not too long ago, Mazda announced some really great updates to the 2018 Mazda MX-5 Miata soft top models. This only furthers the MX-5 Miata's goal to provide the best-driving car in the world, regardless of price point.
New Soft Top Colors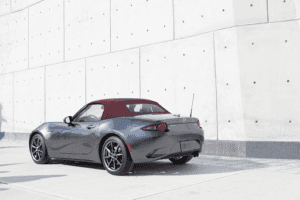 Now, for 2018, Mazda MX-5 Miata customer will have a new option when choosing a soft top. They will now be able to choose between Black and a brand new Dark Cherry color for their soft top. Also, Auburn-colored interior and Nappa leather seating surfaces are now available in the MX-5 Miata Grand Touring model. This was previously only available in the MX-5 RF Launch Edition. We know that the MX-5 Miata is known for its handling. But the soft top's rear suspension and power steering have now been tuned to offer a greater ride. These new updates will also help to suppress much of the unwanted cabin noise.
New Paint Colors
Also new for 2018, the MX-5 Miata will be available in newly offered paint colors: Soul Red Crystal, Eternal Blue Mica and Snowflake White Pearl Mica. The Machine Gray Metallic is also now available. As usual, all MX-5 Miata models that are sold here in the United States will come with a 2.0-liter SKYACTIV™-G engine. That engine offers 155 horsepower and a SKYACTIV™-MT manual transmission. Also available will be a six-speed automatic transmission with paddle shifters.
Arriving Soon
We are expecting the 2018s to arrive here at Beach Mazda any day. All of us here at Beach Mazda are super excited to see the new Dark Cherry soft top in person. We have a feeling the picture won't do it much justice compared to seeing it in person.
For now though, we still have a few brand new 2017 models available. Give Beach Mazda a call today to schedule your VIP Test Drive Experience!